My Blog
Posts for: March, 2015
By Alan M. Simons, DDS Oral Implantology
March 25, 2015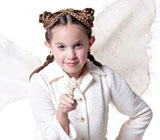 The Tooth Fairy has been easing the process of losing baby teeth for hundreds of years — at least 500 years according to one authority on the subject. Her name is Brady Reiter, and while she looks only age 11 in earth years, she is actually a 500-year-old Tooth Fairy; at least she plays one on DVD.
Brady is the star of Tooth Fairy 2, a new DVD comedy also starring Larry the Cable Guy as a novice Tooth Fairy doing penance for questioning the existence of the magical sprite who leaves payment under pillows for lost teeth.
In a charming interview with Dear Doctor magazine, Brady says it wasn't very difficult to play an ancient tooth fairy trapped in a child's body.
"I'm kind of more mature than an average 11-year-old because I have older brothers and sisters," Brady told Dear Doctor. "It was kind of just connecting with my inner 500-year-old. It was very fun to play a character like that!"
Brady also enjoyed working with Larry, who dons a pink tutu and fluffy wings for his role.
"In hair and makeup every morning, he'd be making all these jokes," she said. "He just cracked us up 100 percent of the time!"
But as much fun as Brady had on the set, her character, Nyx, is all business. And that's how Brady, who recently lost her last baby tooth, has always believed it should be.
"My whole life I thought the Tooth Fairy is just like Nyx," Brady said. "They know what to do, they come in, they're professionals, you don't see them and they never make a mistake and forget your tooth. Just like Santa Claus, tooth fairies are very professional."
Brady also told Dear Doctor that she is very excited to be helping the National Children's Oral Health Foundation fight childhood tooth decay as spokesfairy for America's ToothFairy Kids Club. The club offers kids personalized letters from the Tooth Fairy along with lots of encouraging oral health tips and fun activities.
If you would like to enroll your child in the club — it's free! — please visit www.AmericasToothFairyKids.org. And to make sure your child's teeth and your own are decay-free and as healthy as possible, please contact us to schedule your next appointment.
By Alan M. Simons, DDS Oral Implantology
March 10, 2015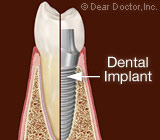 If you're missing a tooth, you're not alone; in fact 35 million Americans are missing all of their teeth in at least one jaw! Whether it's one tooth or many, it's important to replace what's missing. Depending on the number of teeth lost, the potential drawbacks to doing nothing may become hard to ignore: impediments to eating, interference with speech, and unaesthetic appearance, for example.
Traditional bridges and dentures are the most affordable options for replacing teeth. Tooth implants — tiny titanium, screw-like substitutes for a tooth's natural root to which natural-looking dental crowns are attached — are pricier but offer an important extra benefit. In addition to addressing the common problems previously mentioned, by acting like the original tooth root, an implant can maintain or stimulate "remodeling," of the jawbone below. Without a tooth root to provide stimulation, mature bone cells will continue to be removed, or resorbed, but no new bone cells will regenerate to replace them, leading to a progressive loss of bone width, height and density. The more teeth are lost, and with less bone structure to support it, the whole shape of the face can change.
Unfortunately, when greater numbers of teeth must be replaced, implants can become financially unrealistic for some people. But in appropriate cases there is a third option: a bridge or denture/implant hybrid. In the case of a bridge intended to fill a gap when multiple teeth are missing, an implant can be used on either side of the gap to support the bridge, leaving the natural teeth undisturbed. Strategically placed implants can be used to support a removable denture, too.
If you would like more information about dental implants, please contact us or schedule an appointment for a consultation. You can also learn more about this topic by reading the Dear Doctor magazine article "Dental Implants: Your Best Option For Replacing Teeth."