My Blog
Posts for: April, 2015
By Alan M. Simons, DDS Oral Implantology
April 24, 2015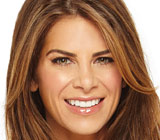 As America's toughest trainer on the hit television program The Biggest Loser, Jillian Michaels helped people learn that they hold the power to change. And if anyone knows about the power of changing oneself, it is Jillian Michaels. In her recent interview with Dear Doctor magazine, Jillian discusses her childhood, the trauma of being overweight as a teenager (5' 2" and 175 pounds), and the day her life forever changed when she started martial arts training at a gym. "I started training when I was 17 and always loved it but never thought it would end up being my career," she said.
Jillian also reveals that when she was a child, she broke her two front teeth and had them repaired with crowns. She added, "Now, I generally wear a mouthguard if I am doing anything where my teeth have any chance of being knocked out."
When it comes to replacing teeth that are broken or damaged from trauma, or teeth that are damaged because of dental decay, grinding habits, or acid erosion, crowns may be your best option. And because the tooth enamel is damaged, a bit more of it must be removed before we can place a crown. Generally speaking, we must remove about 2 millimeters of tooth structure to place a crown. Once the crown is placed, the tooth will always require a crown, as this is an irreversible procedure. However, the good news is that a crown not only mimics the look and feel of a natural tooth, but it is also the optimal long-term solution. On average, a crown last between 5 and 15 years and requires no special maintenance. In fact, you should treat your crown as you do your natural teeth, with a daily cleaning regimen of brushing and flossing and routine dental examinations and cleanings.
To learn more about crowns or other cosmetic procedures, contact us today to schedule an appointment so that we can conduct a thorough examination, discuss any questions you have as well as what treatment options will be best for you. Or to learn more about crowns now, you can continue reading the Dear Doctor magazine article "Porcelain Crowns & Veneers." And to read the entire interview with Jillian Michaels, please see the article "Jillian Michaels."
By Alan M. Simons, DDS Oral Implantology
April 09, 2015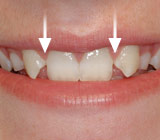 Normally, teeth erupt and grow in a symmetrical alignment: on the top palate, for example, the two central incisors take center stage; on either side are the lateral incisors, and then beside these the canines (cuspids).
But what happens when teeth don't grow in? The result can be a smile that just doesn't quite look right; more importantly, normal function is impaired because the person can't grasp and chew food correctly.
These missing teeth are the result of a congenital ("from birth") defect. It's estimated that almost a quarter of all people are missing one or more wisdom teeth, and more than 5% are missing one or more second premolars or upper lateral incisors.
In a normal arch (the upper or lower set of teeth), each tooth type performs a particular role during eating. A missing tooth causes the remaining teeth to compensate, but beyond their capacity. The remaining teeth also tend to move to fill in any gaps left by the missing teeth, as when the eye teeth move toward the central incisors in the absence of the lateral incisors. This puts them out of position, so they can't cover ("occlude") their counterparts on the other arch and grasp food properly.
To improve the smile and restore proper chewing function it's necessary to first move these "out of position" teeth to their correct position through orthodontics. We would then fill the gaps that result with life-like restorations (preferably dental implants with crowns) that resemble the type of tooth that should be there.
The restoration needs to be timed carefully, especially for young patients whose jaw structure has not fully developed. If implants are installed before the jaw's full maturity (usually late teens or early twenties), the implant crowns may not appear to be the right length as the jawbone continues to grow. Since bone growth depends on the normal pressures exerted by the teeth, there may also be insufficient bone mass in the gap area to support a dental implant. Growing bone with bone-grafting material may be necessary before installing implants.
The total process could take many months or even years, depending on age and other conditions. In the end, though, the results can be astounding — better function and a vibrant, new smile.
If you would like more information on developmental problems with teeth, please contact us or schedule an appointment for a consultation. You can also learn more about this topic by reading the Dear Doctor magazine article "When Permanent Teeth Don't Grow."