My Blog
Posts for: July, 2015
By Alan M. Simons, DDS Oral Implantology
July 30, 2015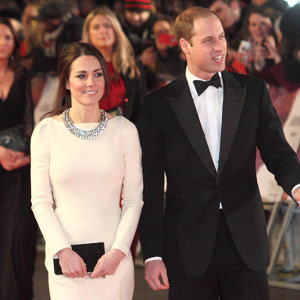 So you're tearing up the dance floor at a friend's wedding, when all of a sudden one of your pals lands an accidental blow to your face — chipping out part of your front tooth, which lands right on the floorboards! Meanwhile, your wife (who is nine months pregnant) is expecting you home in one piece, and you may have to pose for a picture with the baby at any moment. What will you do now?
Take a tip from Prince William of England. According to the British tabloid The Daily Mail, the future king found himself in just this situation in 2013. His solution: Pay a late-night visit to a discreet dentist and get it fixed up — then stay calm and carry on!
Actually, dental emergencies of this type are fairly common. While nobody at the palace is saying exactly what was done for the damaged tooth, there are several ways to remedy this dental dilemma.
If the broken part is relatively small, chances are the tooth can be repaired by bonding with composite resin. In this process, tooth-colored material is used to replace the damaged, chipped or discolored region. Composite resin is a super-strong mixture of plastic and glass components that not only looks quite natural, but bonds tightly to the natural tooth structure. Best of all, the bonding procedure can usually be accomplished in just one visit to the dental office — there's no lab work involved. And while it won't last forever, a bonded tooth should hold up well for at least several years with only routine dental care.
If a larger piece of the tooth is broken off and recovered, it is sometimes possible to reattach it via bonding. However, for more serious damage — like a severely fractured or broken tooth — a crown (cap) may be required. In this restoration process, the entire visible portion of the tooth may be capped with a sturdy covering made of porcelain, gold, or porcelain fused to a gold metal alloy.
A crown restoration is more involved than bonding. It begins with making a 3-D model of the damaged tooth and its neighbors. From this model, a tooth replica will be fabricated by a skilled technician; it will match the existing teeth closely and fit into the bite perfectly. Next, the damaged tooth will be prepared, and the crown will be securely attached to it. Crown restorations are strong, lifelike and permanent.
Was the future king "crowned" — or was his tooth bonded? We may never know for sure. But it's good to know that even if we'll never be royals, we still have several options for fixing a damaged tooth. If you would like more information, please contact us or schedule an appointment for a consultation. You can learn more by reading the Dear Doctor magazine articles "Repairing Chipped Teeth" and "Crowns and Bridgework."
By Alan M. Simons, DDS Oral Implantology
July 15, 2015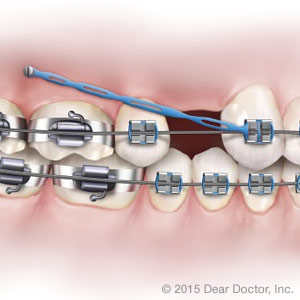 As a basic orthodontic appliance, braces are what allows us to move teeth into better positions to improve a person's bite. In certain cases, though, this treatment application gets a little assistance from Temporary Anchorage Devices (TADs) to improve accuracy and reduce treatment time.
Braces take advantage of our teeth's natural ability to move. Teeth are held in place within the bone by the periodontal ligament, an elastic tissue that attaches to the teeth with microscopic fibers secured by a hardened substance called cementum. The periodontal ligament is constantly remodeling in response to changes in the mouth. As pressure is placed on a tooth, new bone, ligament and cementum are formed on the "pulling" side of the tooth; on the other side, the bone and ligament dissolve (resorb), allowing the tooth to move in that direction.
Braces allow this natural process to occur with controlled forces applied by thin flexible wires threaded through the small brackets attached to the front of the teeth and then affixed or "anchored" to other teeth. By attaching the teeth to the other teeth by wires running through all the brackets, "anchorage" is created to allow teeth to be moved where the dentist wants them to go. By adjusting the tension on the wires, we can apply light but constant pressure on the "unanchored" teeth to move them into a new desired position.
Teeth we do not want to move are referred to as the anchorage for teeth we do want to move. If, however, the situation calls for more precise isolation of teeth to be moved, TADs can be very useful. TADs are mini-implants imbedded in the bone to serve as anchorage at strategic locations in the mouth. In this way, the group of teeth to be moved receives forces that are applied through the additional anchorage provided by the TADs. That "tension" or "pressure" is applied only to them and not to adjacent teeth that should not move. This increases efficiency for tooth movement and helps reduce the treatment time.
TADs can be placed using local anesthesia and with little discomfort, and are removed when orthodontic treatment is completed. Although the procedure is pretty straightforward, it does require collaboration between orthodontist and surgeon to ensure correct positioning.
In the end, TADs increase our ability to control the forces that move teeth during orthodontic treatment. This lessens discomfort for the patient and helps ensure the end result — a more functional bite and a transformed smile.
If you would like more information on the use of TADs and other orthodontic appliances, please contact us or schedule an appointment for a consultation. You can also learn more about this topic by reading the Dear Doctor magazine article "What are TADs?"