My Blog
Posts for tag: oral health
By Alan M. Simons, DDS Oral Implantology
May 02, 2020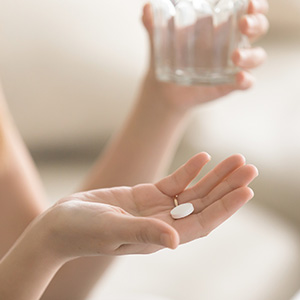 Because the mouth is one of the most sensitive areas of the body, we go to great lengths to eliminate pain and discomfort associated with dental work. Anesthesia, both local and general, can achieve this during the actual procedure—but what about afterward while you're recuperating?
While a few procedures may require prescription opioids or steroids to manage discomfort after a procedure, most patients need only a mild over-the-counter (OTC) pain reliever. There are several brands available from a group of medicines called non-steroidal anti-inflammatory drugs (NSAIDs). NSAIDs like aspirin or ibuprofen work by blocking the release of prostaglandins into the body, which cause inflammation in tissues that have been damaged or injured.
Unlike their stronger counterparts, NSAIDs have fewer side-effects, cost less and aren't addictive. And unlike opioids NSAIDs don't impair consciousness, meaning patients can usually resume normal activities more quickly.
But although they're less dangerous than opioids or steroids, NSAIDs can cause problems if taken at too strong a dose for too long. Its major side effect is interference with the blood's clotting mechanism, known as "thinning the blood." If a NSAID is used over a period of weeks, this effect could trigger excessive external and internal bleeding, as well as damage the stomach lining leading to ulcers. Ibuprofen in particular can damage the kidneys over a period of time.
To minimize this risk, adults should take no more than 2400 milligrams of a NSAID daily (less for children) and only for a short period of time unless directed otherwise by a physician. For most patients, a single, 400 milligram dose of ibuprofen can safely and effectively relieve moderate to severe discomfort for about 5 hours.
Some patients should avoid taking a NSAID: pregnant women, those with a history of stomach or intestinal bleeding, or heart disease (especially if following a daily low dose aspirin regimen). If you have any of these conditions or similar concerns, be sure you discuss this with your dentist before your procedure for an alternative method for pain management.
If you would like more information on managing discomfort after dental procedures, please contact us or schedule an appointment for a consultation. You can also learn more about this topic by reading the Dear Doctor magazine article "Treating Pain with Ibuprofen."
By Alan M. Simons, DDS Oral Implantology
March 25, 2015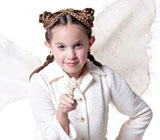 The Tooth Fairy has been easing the process of losing baby teeth for hundreds of years — at least 500 years according to one authority on the subject. Her name is Brady Reiter, and while she looks only age 11 in earth years, she is actually a 500-year-old Tooth Fairy; at least she plays one on DVD.
Brady is the star of Tooth Fairy 2, a new DVD comedy also starring Larry the Cable Guy as a novice Tooth Fairy doing penance for questioning the existence of the magical sprite who leaves payment under pillows for lost teeth.
In a charming interview with Dear Doctor magazine, Brady says it wasn't very difficult to play an ancient tooth fairy trapped in a child's body.
"I'm kind of more mature than an average 11-year-old because I have older brothers and sisters," Brady told Dear Doctor. "It was kind of just connecting with my inner 500-year-old. It was very fun to play a character like that!"
Brady also enjoyed working with Larry, who dons a pink tutu and fluffy wings for his role.
"In hair and makeup every morning, he'd be making all these jokes," she said. "He just cracked us up 100 percent of the time!"
But as much fun as Brady had on the set, her character, Nyx, is all business. And that's how Brady, who recently lost her last baby tooth, has always believed it should be.
"My whole life I thought the Tooth Fairy is just like Nyx," Brady said. "They know what to do, they come in, they're professionals, you don't see them and they never make a mistake and forget your tooth. Just like Santa Claus, tooth fairies are very professional."
Brady also told Dear Doctor that she is very excited to be helping the National Children's Oral Health Foundation fight childhood tooth decay as spokesfairy for America's ToothFairy Kids Club. The club offers kids personalized letters from the Tooth Fairy along with lots of encouraging oral health tips and fun activities.
If you would like to enroll your child in the club — it's free! — please visit www.AmericasToothFairyKids.org. And to make sure your child's teeth and your own are decay-free and as healthy as possible, please contact us to schedule your next appointment.